The style of garage doors is defined by their design. The main categories are traditional, modern and Craftsman garage doors with several variations in between. And each is distinguished for its own design. The material doesn't always play the prime role in defining the garage door style. Although wood has been always considered traditional, it may as well serve as an excellent material for modern doors. On the other hand, it's hard to place a glass garage door in the list of traditional designs. So, let's see the features that identify the three main garage door styles.
Traditional Garage Doors
Traditionally, garage doors were made of wood and swung outwards. Today, we know them as carriage house style garage doors. They don't swing out but open like overhead doors, for convenience reasons although you can find swing doors too. But not all traditional garage doors are made of wood. In fact, most people opt for steel garage doors since they can be better insulated while they withstand better the test of time.
In either case, their traditional character is identified by their design. They usually have an arched top, windows in various configurations, and trimmed panels. Typical examples of traditional styles are the short and long raised panel garage doors. They pair nicely with Colonial, Victorian, Georgian, Neoclassical, Ranch, and Tudor home styles.
Craftsman Garage Doors
Craftsman garage doors have a traditional character with a modern twist.
In other words, they are distinguished for the lack of embellishments while they are defined by the attention to detail. The Craftsman home style emerged as a reaction to the excessive decoration of the Victorian style and the devaluation of unique designs with mass production. It became a movement which emphasized on simplicity and the originality which emerges from handcraftsmanship. And so Craftsman garage doors still feature windows and trims but the lines are cleaner than their traditional counterparts. They might be ornamented with decorative hardware but not excessively. Their lines resemble more flush panel garage doors rather carriage styles with heavy decorations.
Modern Garage Doors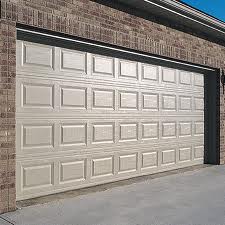 Modern designs may or may not have windows. Contemporary residential garage doors might be made of any material whereas the colors are usually neutral and bold ranging from black and white to gray or even more intense hues. There is no doubt that glass garage doors are dominant options among modern styles since their lines are strict and they are paired with aluminum frames. Although the panels might have trims or grooves, the lines are always clean and the configuration of the windows is either symmetrical or random. In either case, there are no arches and heavy decorations here. Although they have a mute elegance, they make a bold statement just like all contemporary architectural styles.
How to Choose your Garage Door Style
It's best to match the style of your home with the style of the garage door. And since your home is already there, you need to be inspired by its architectural style to create the custom garage door that will complement the property and not look like it doesn't belong there. If you have a hard time deciding and your home is modern, go for a Craftsman style. Why? Because it borrows elements from the more extreme styles. This way, you will have a modern garage door with a classic touch but without the heavy decoration. Thus, a sleek appearance.